Here at Insignia Showers we like to keep up with the newest and upcoming styles. We are constantly looking to improve not only our functionality but also our style. Our two-part blog series will look at the core 2018-2019 bathroom trends to give you some inspiration on how best to revive a tired looking bathroom.
Wood Working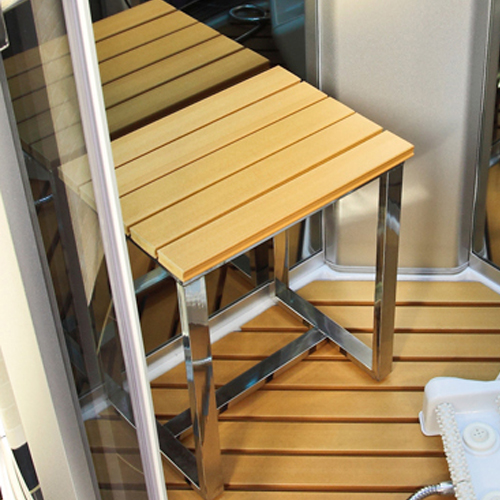 One of the top upcoming trends is incorporating natural coloured wood working in a modern style bathroom.  Our wood effect shower trays and stools have the appearance of wood but are actually made from a synthetic wood. This means you will not have to worry about rot as they have a long-lasting lifetime. Another way to incorporate this key trend into your bathroom is with storage units, shelves and accessories.
Marble
A trend that has been around for a while but is set to continue. One of our customers has blended the traditional marble finish with a sleek, modern GT1057 bath and steam shower combo. A stunning amalgamation of traditional aesthetics and modern technology that come together to create something beautiful and beneficial. You can easily incorporate marble effect accessories into your bathroom to jazz it up without the hassle of re-tiling!
Ultra-Modern Designs
Two of our customers have capitalised on the current 'ultra-modern' trend, combining fashionable colour schemes and tiling with modern bathroom fixtures and integrated features such as shelves and showers. The GT9001 & Deluxe DIY Steam Generator Kit have helped our clients create the bathroom of their dreams (one customer even purchased two!).
Keep an eye out for our next post in the series for more ideas, inspiration and information.
Take a look at some more of our products and bathroom inspiration ideas on our Pinterest page www.pinterest.co.uk/InsigniaRangeShowers. You can also follow us on Facebook, Twitter & Instagram below or watch some of our YouTube videos here.