Care and Health with Valiryo Body Dryers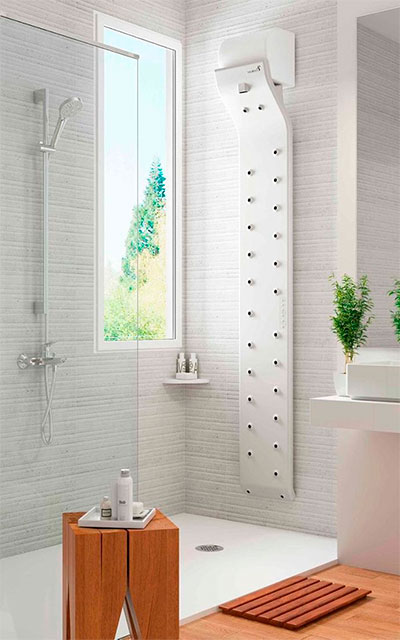 Easier and more accessible drying for everyone
Not everyone finds it easy or comfortable to dry themselves with a towel, due to age or mobility problems. Valiryo offers an effective alternative that respects your skin and does not require any effort. Start drying yourself again and enjoy a more relaxing, safe and hygienic experience.
Revolutionary Valiryo Body Dryers are designed to be installed in the shower, offering an exciting drying experience with its 27 air diffusers on the column.
More relaxing

Dry yourself effectively while enjoying an air massage that extends that feeling of well-being in the shower - just relax and enjoy!

More natural and hygienic

Valiryo Body Dryers help your skin to absorb moisture without suffering any type of aggression, keeping it softer and more hydrated.

Easier and safer

Valiryo Body Dryers ensure optimal and autonomous drying for everyone and prevents possible falls due to slipping.

More sustainable

Valiryo Body Dryers reduce the carbon footprint in your home and business by eliminating the need to wash towels and by reducing electricity and water consumption.
Make the drying routine easier
Make the drying routine easier
Drying with a towel requires difficult balancing and aggressive movements that can be dangerous and also painful. This is why many people are unable to dry themselves.
Valiryo Body Dryers make drying easier, whatever your situation. No matter if you are sitting or standing with the help of handles, you just have to get in front of it and turn slowly while you dry yourself completely with the air expelled by its diffusers.
Creating a safer bathroom
Creating a safer bathroom
The bathroom is one of the places where most accidents take place. That's the reason why we find it necessary to adapt it to our new needs and make it safer and more comfortable.
Valiryo Body Dryers make drying safer by avoiding difficult balancing acts while drying yourself with a towel. In addition, it allows you to get out of the shower completely dry avoiding the presence of water on the floor and the possible falls.
Gentle on your skin
Proper drying is essential to prevent the development of fungal infections on our skin. Keep it healthier and moisturized with Valiryo. If you suffer from atopic skin or have any other skin disease, Valiryo becomes an essential element in your daily life.
Valiryo Body Dryers replace the use of towels, avoiding the friction of the towel on your skin and the exposure to bacteria that they usually contain if they are not properly sanitized.
Relax your body and your mind
Relax your body and your mind
The body drying often breaks the feeling of wellbeing gained during the shower, because it is an uncomfortable and unpleasant procedure that involves some physical effort and is not always smooth.
Valiryo Body Dryers change this forever, giving meaning to your drying and transforming it into a warm air massage that stretches your muscles and relaxes your mind, giving you time for yourself.
"Towel Free" Certification
Visibility confirm your enviromental commitment
By providing Valiryo Body Dryers to your customers, display a label that certifies you as a TOWEL-FREE FACILITY, proving your commitment to the environment and reducing your carbon footprint (CO2). We estimate that with each use of Valiryo we avoid emitting 1.83 kg of CO2 into the atmosphere compared to washing towels. We also reduce the use and contamination of water with detergents and other chemicals.