INSIGNIA SHOWER BATHS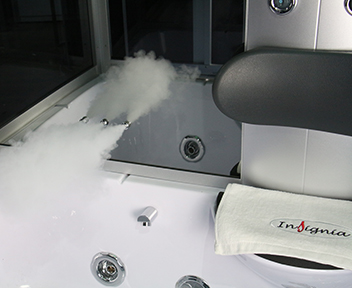 Insignia Shower Baths truly encapsulates the meaning, "the best of both worlds." The combination of a steam shower and a jetted bath all in one unit, these cabins have it all. Step into a different world with this cabin and experience the soothing relaxation of a hot bath with whirlpool jets or indulge in the hydo-massage shower jets combined with a monsoon shower head, all topped off with the complete luxury of steam.
Insignia are the largest supplier of Steam Showers in Europe, so you can be sure you are buying from the experts. Incorporating all the key features of 2nd generation shower systems, Insignia's Showers offer everything you would expect from the Insignia brand and always more than other makes.
Unique design features only available from Insignia, such as 'LeakFree' trays and 'QuickClick' installation system, make Insignia's range of showers the obvious choice.
Please browse the complete Insignia range of Shower Baths below, where you will find designs, styles, sizes and options to meet your exact requirements.