Shower Cabins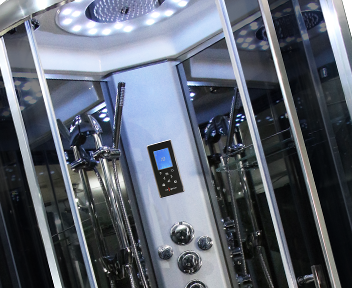 A shower cabin is a type of all-in-one shower unit that combines a shower, tray (or bath), enclosure, back panel, and other elements into a single, unified structure. These cabins typically come equipped with luxurious spa-like amenities such as built-in steam units that are quite amazing and LED lights that provide chromatherapy.
Insignia Shower Cabins come with a complete range of premier features, including; elegant high pressure brass bodied hand shower units, internal LED chromotherapy lighting providing higher luminescence and colour definition, overhead rain shower, 2nd generation touch screen control panel with Bluetooth connectivity and optional 2.8kw fast start steam generator with tri-jet steam outlet and aromatherapy injection system.
Many of the shower pods also function as steam shower cabins. This is a variation on the conventional shower cabin that gives the user all the benefits of using a steam room while also integrating a shower unit. 
Unique design features only available from Insignia, such as 'LeakFree' trays and 'QuickClick' installation system, make Insignia's range of showers the obvious choice.
Please browse the complete Insignia range of Shower Cabins below, where you will find designs, styles, sizes and options to meet your exact requirements.