Insignia's Flagship Showroom

Insignia are pleased to announce that their flagship showroom in Milton Keynes is once again open.
Insignia realise that many of our customers like to view our showers and see for themselves the amazing styles, build quality and features on offer. If you would like to register your interest in visiting our amazing showroom, why not email us now and we will contact you back as soon as we are allowed to receive visitors again. We'll make sure that the coffee is as good as it always is and look forward to seeing you.
Insignia realise that many of our customers like to view our showers and see for themselves the amazing styles, build quality and features on offer. During the current Covid situation, visits to our showroom and for your safety and peace of mind the following measures are in place: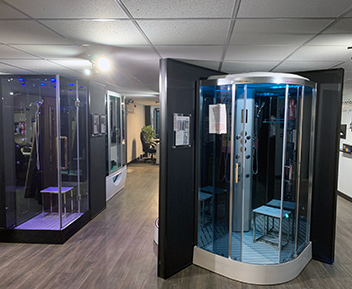 Showroom open
Exclusive viewing for safety and service please ensure 2m social distancing
Please allow our staff time to sterilise surfaces before close inspection
Self-service refreshments available - For your safety staff cannot assist
Should you wish for any additional safety measure to be included for you visit, please inform us and we will do our best to include them.
Please contact the Insignia Sales Team directly by email or telephone:
Telephone : 01908 317 512
Email : info@insigniashowers.com
Welcome to the world of Insignia

Insignia offer the very finest in steam showers and shower cabins available. Visit our flagship Milton Keynes showroom where you will be able to browse the full collection of Insignia showers available on the market.
Seeing an Insignia shower in the flesh is a great way to get a proper feel for which shower will work best for you, allowing you to compare different models and finishes according to your design taste.
Designed by you, made by Insignia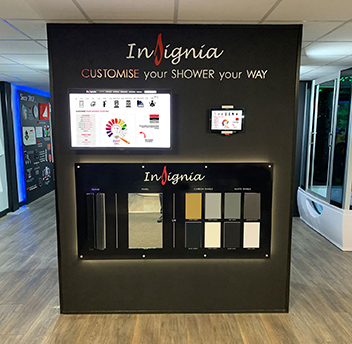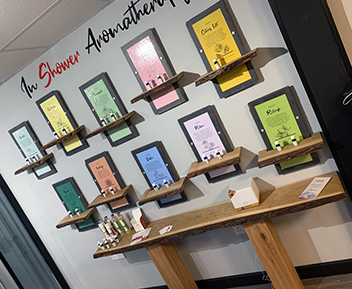 Insignia host an incredible array of showers and this includes the option to customise your Insignia shower to complement any bathroom interior. In-store you can experience the Insignia Customisation Wall, which allows you to easily design your shower from start to finish. Simple to use and intuitive technology lets you experiment with your choice of orientation, frame, and the colour finish of your Insignia shower. Get a real feel for the touch and finish of your shower with our sample board, allowing you to compare materials and fully envisage your dream shower.
Featured only at the Insignia Outlet Showroom in Milton Keynes, is the aromatherapy AMI wall. This beautifully crafted display of natural aromatherapy essences lets you sample any aroma within the AMI collection. In addition, we have a diffuser on display allowing you to experience the aroma infused through steam. So, whatever your preference you can be sure to discover the perfect essence to suit your wellbeing needs.
More than just a showroom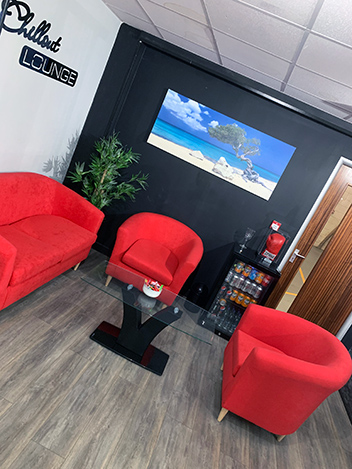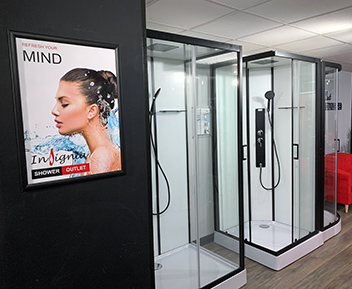 Insignia do everything they can to aid you in your journey to creating your perfect shower. Whatever your needs help is always available, whether you simply want to know more about Insignia showers, or you need specific technical guidance, you will find yourself in safe and experienced hands in our Outlet Store Showroom.
Insignia do not believe in the hard sell, so you need not worry about any pushy salesmen jumping on you as soon as you walk through the door, instead enjoy a relaxed and casual environment where you can browse in peace and at your own pace. When you are ready you can enjoy a friendly and informal chat with our resident experts who can offer you as much assistance as you require.
With complimentary tea, coffee, and cold drinks you can relax in the private chillout lounge, allowing you to sit and discuss your ideas without disturbance. Spend as long as you need and make the process of choosing your perfect Insignia shower an enjoyable experience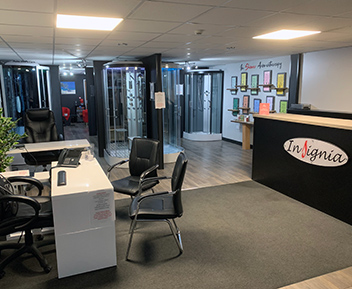 Insignia Shower Outlet
9a Deans Road,
Old Wolverton,
Milton Keynes,
MK12 5NA
Opening Times
Monday – Friday: 9am – 5:00pm
Tel: 01908 317512