Hospitality with Valiryo Body Dryers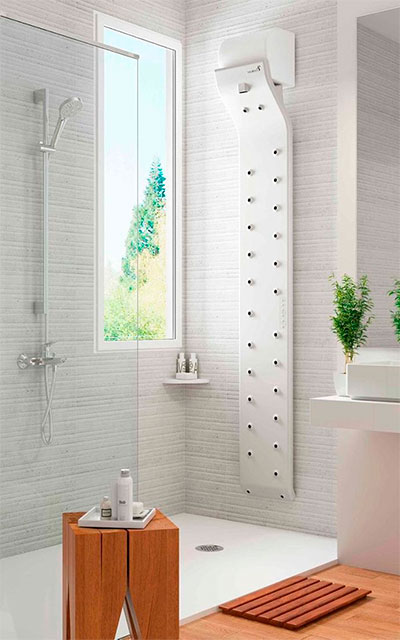 Exclusive, premium service for your customers
Valiryo Body Dryers provide a substitute for the regular use of towels in the tourism industry, which requires significant resources for its upkeep and cleansing - resulting in a substantial financial expenditure as well as environmental harm.
Revolutionary Valiryo Body Dryers are designed to be installed in the shower, offering an exciting drying experience with its 27 air diffusers on the column.
More relaxing

Dry yourself effectively while enjoying an air massage that extends that feeling of well-being in the shower - just relax and enjoy!

More natural and hygienic

Valiryo Body Dryers help your skin to absorb moisture without suffering any type of aggression, keeping it softer and more hydrated.

Easier and safer

Valiryo Body Dryers ensure optimal and autonomous drying for everyone and prevents possible falls due to slipping.

More sustainable

Valiryo Body Dryers reduce the carbon footprint in your home and business by eliminating the need to wash towels and by reducing electricity and water consumption.
Towel free accommodation
Valiryo Body Dryers help you reduce your hotel's carbon footprint and show your commitment to sustainability. Stop asking your guests to reuse towels and offer this innovative alternative. Become a towel-free hotel with our certifications. Each use of Valiryo eliminates 0.55 kg of CO2 from the atmosphere.
More comfort for your guests
More comfort for your guests
Drying is essential for the health of our skin; but we do not usually give it the importance it deserves, making it an uncomfortable procedure that breaks the feeling of well-being gained in the shower. Valiryo Body Dryers bring meaning to your drying with a warm air massage that relaxes your body and mind. A unique experience for your accommodation that will increase the comfort of your customers.
Savings on laundry costs
Although we can provide a customized calculation for you, we have estimated that the implementation of Valiryo Body Dryers reduce up to 90% of the costs derived from the cleaning and logistic management of towels. Likewise, Valiryo Body Dryers reduce the presence of water in the bathrooms, which cuts the time needed to clean each room. In short, this means that the investment brings a quick return.
Display your CO2 savings
By connecting your dryers to the ""Internet of Things"", we can offer you a display that shows your customers in real time the reduction in your carbon footprint achieved by replacing the towel with Valiryo Body Dryers, as well as the savings in water and electricity. You can also calculate the savings made thanks to Valiryo Body Dryers and find out at what point you have achieved a return on investment.
"Towel Free" Certification
Visibility confirm your enviromental commitment
By providing Valiryo Body Dryers to your customers, display a label that certifies you as a TOWEL-FREE FACILITY, proving your commitment to the environment and reducing your carbon footprint (CO2). We estimate that with each use of Valiryo we avoid emitting 1.83 kg of CO2 into the atmosphere compared to washing towels. We also reduce the use and contamination of water with detergents and other chemicals.