Wellness and Sport with Valiryo Body Dryers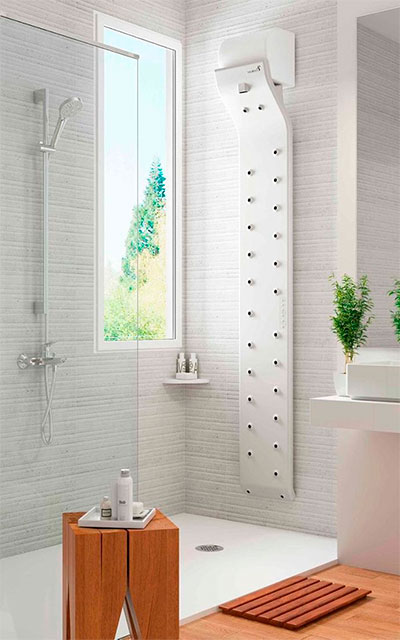 Exclusive, premium service for your customers
Valiryo Body Dryers give your customers a unique drying experience, taking care of their skin and soothing their muscles. After a workout, they'll be able to say farewell to an uncomfortable wet towel and feel fully refreshed. Plus you'll benefit with enhanced customer comfort, improved hygiene standards and the opportunity to stand out from the crowd.
Revolutionary Valiryo Body Dryers are designed to be installed in the shower, offering an exciting drying experience with its 27 air diffusers on the column.
More relaxing

Dry yourself effectively while enjoying an air massage that extends that feeling of well-being in the shower - just relax and enjoy!

More natural and hygienic

Valiryo Body Dryers help your skin to absorb moisture without suffering any type of aggression, keeping it softer and more hydrated.

Easier and safer

Valiryo Body Dryers ensure optimal and autonomous drying for everyone and prevents possible falls due to slipping.

More sustainable

Valiryo Body Dryers reduce the carbon footprint in your home and business by eliminating the need to wash towels and by reducing electricity and water consumption.
A well-being experience
Valiryo Body Dryers revolutionizes drying with a peaceful, stress-relieving massage of warm air which stimulates and extends the muscles. Also, it absorbs moisture into the skin delicately yet efficiently to make it softer and more hydrated. This experience is sure to give your customers an extra boost in their overall well-being.
Hygiene and cleanliness
Using Valiryo Body Dryers you will be able to enter and exit the shower area completely dry, thereby guaranteeing a cleaner locker room and improved image for your establishment. Moreover, eliminating any possibility of water in this area also increases safety, reducing the likelihood of mould growth due to damp conditions. Finally, by eliminating towels, we reduce the potential exposure to bacteria or other germs that they may contain if they have not been cleaned properly.
Post-workout freshness
When engaging in physical activity, one will experience an increase in body temperature as a result of exertion. With a post-workout shower, the temperature rises even more and causes one to start sweating again as their body attempts to reduce the heat build up. Valiryo Body Dryers are designed with this in mind, providing air circulation to evaporate sweat while helping regulate body temperature, allowing users to leave the gym more relaxed.
A new service for your customers
A new service for your customers
Valiryo provides a quick and efficient drying process so your patrons can smoothly transition between areas in your facility. This ensures that they are dry upon exiting the shower, avoiding wetness in the locker room. Your customers will be thrilled with a perfect conclusion to their workout or spa session, leaving them completely satisfied and with dry towels.
"Towel Free" Certification
Visibility confirm your enviromental commitment
By providing Valiryo Body Dryers to your customers, display a label that certifies you as a TOWEL-FREE FACILITY, proving your commitment to the environment and reducing your carbon footprint (CO2). We estimate that with each use of Valiryo we avoid emitting 1.83 kg of CO2 into the atmosphere compared to washing towels. We also reduce the use and contamination of water with detergents and other chemicals.