We are all one for nosing… whether it's a friend asking if you want to have a look at their new kitchen or if it's the first room you go into while staying away. We want to help you become a 'Trend Setter' and the go to when it comes to your friends and family wanting new ideas for their homes. What is the first room you step into when you're away? Most likely the bathroom or bedroom. Why? Bathrooms and bedrooms are the 2 most used rooms that's why. Not only that but it's the room where you cleanse in, therefore it should be clean itself! Therefore we wanted to share some 2017 ideas to wow your friends and family.
Marble
So many unique patterns and different tones of marble. It gives the fresh modern look to your bathroom; the unique patterns open the mind and make you think the room is larger than it is.  We have discovered that greys and black tones of marble are the most attractive and are easy to dress via Pinterest and Instagram.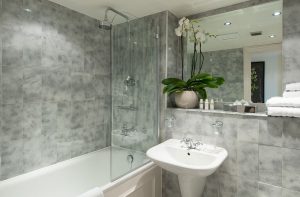 'It's bringing the outside inside'
Plants add scenery into your bathroom like the picture above, bringing the outside inside! Not only that but it's a fresh environment for you to cleanse in. Or why not try different colour towels, maybe a lime green or orange… Insignia has given their customers the option to carbon your shower cabin, any colour out of our
samples
* to match your tiles OR add some colour!
Next step, buy an Insignia Shower… We're only joking! Back to the décor!
Hole in the wall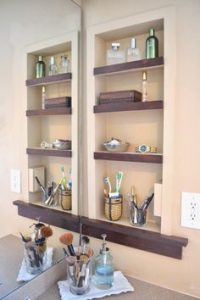 In bathrooms, you wouldn't believe how much we have for that one room? You'd just think the essentials of toothbrush, face wash and shampoo right? Apparently not. Ladies, you stock up to save money then wonder where to store it. Men, shaving devices and other mess items? Kids, when the family grows you then double the number of toothbrushes you have and towels that are left everywhere but the rail. Why not try the hole in the wall storage, perfect for all the essentials and everything else.
Spotlight
The bath/shower is the main 'spotlight' so why not enhance it with drop lights. Drop lights are perfect for making a bathroom look instantly classy and modern. Not only that but by enhancing the main feature of the bathroom. But make sure your bath/shower is clean all the time!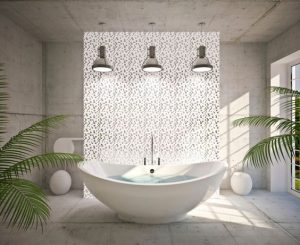 Are you already a trend setter
If you have any of these features in your bathroom, we want to know! Message us on marketing@insigniarange.co.uk or on Facebook at Insignia Outlet to be featured!
*Colours to choose from are the following:
Silver, Black, White, Wine, Red, Blue, Green, Pink, Gold