Here at Insignia we aim to provide you with the best quality and showering experience therefor we don't just stop at the shower. We also do a range of accessories to give you the option of adding to and enhancing your experience and customer satisfaction. Shower Guard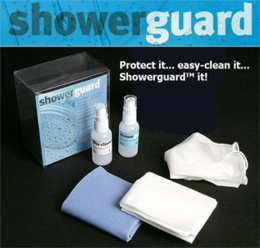 Shower Guard provides protection for shower enclosure glass, glazed ceramic tiles, porcelain a nd mirrors and provides easy maintenance for new and existing bathroom furniture with the strongest and most durable glass improvement system available. Just one easy application gives permanent protection using the power of nano-technology. Shower Guard contains minute molecules of silicone dioxide. Within seconds of application these molecules fuse with the silicon dioxide in the glass. The finish usually described as "non-stick", creates a surface to which contaminants will be less able to stick to, and hence run off the glass within the water droplets.
Now you know about the Shower Guard click here to purchase.