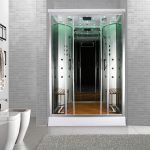 The Insignia INS9005 twin cabin steam shower offers a unique double cabin that has separate columns with two mixer shower heads – this means you can operate both showers at the same time, which can be ideal in the right circumstances. Not only that but like all of our showers the INS9005 twin cabin has a monsoon shower in the middle of the cabin enclosed within the roof. At 1400mm wide and 900mm deep the INS9005 is one of the larger steam showers within the range. Not for the smaller bathroom but this enclosure is perfect for a master bathroom with space to spare.
Revolutionary and unique are just two of the words you could use to describe the only twin shower in the range – the INS9005.
The Insignia INS9005 steam shower comes with two wooden stools for comfort while showering/ enjoying the hydro-massage jets. Being able to sit and steam is a benefit to the whole body, therefore you aren't stressing any muscles in the process. The floor is also made from synthetic wood to avoid slipping and giving that extra high-end look and making it look pleasing to the eye. This shower comes with 12 hydro-jets, they are powerful massaging jets that work in conjunction with the steam feature. All in all these features are great to make sure you enjoy your showering experience, together or on your own.
Other features of the Insignia INS9005 twin cabin steam shower...
Being part of the steam range, the Insignia INS9005 twin cabin steam shower has the Bluetooth feature. Giving you the chance to set the mood by listening to your own music. Relaxation is key with a steam shower and is a priority for many which is why the shower is packed with features to assist with the relaxation process. Firstly, the steam feature which of course aids relaxation which is common knowledge. Whether your job is manually tiring or mentally tiring, regular steam can alleviate the aches and pains.  Our internal mood lighting adds to the relaxation with eight different lighting colour options. You have seven individual colours that you can choose from which illuminate the cabin. With seven different colours to choose from you can have any of them fixed or alternatively you can choose the gentle scroll of colours.
Chromotherapy
is an incredibly popular feature, which not only is consistent across the
Insignia steam shower range
but has also been copied by competitors because of the overwhelming popularity of it. As standard, each steam shower comes with the
AMI (Aromatherapy Modular Injection) System
which enables the infusion of luxurious essential oil, to the steam from within the cabin itself. This is the only aromatherapy injection-based system within the market.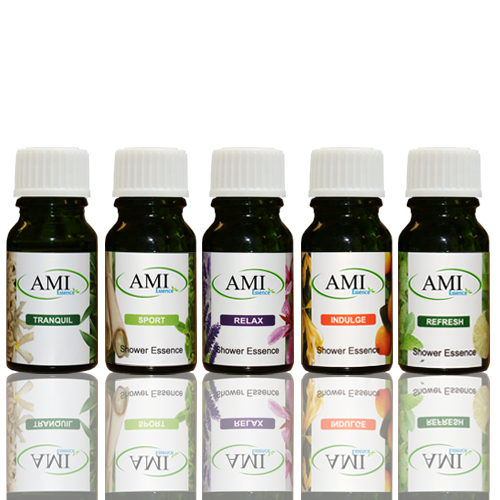 As this unit is part of the steam shower range, the INS9005 also comes with a voucher code. Therefore you can redeem the luxury pack including shower gels from our AMI range, towel and waffle robe.