Insignia's Marble Collection : From Ancient Rome to Modern Homes.
With Insignia's Marble Shower Collection, we believe that you bathroom deserves the same level of attention and sophistication as any other room in your home. Our curated collection of marble shower designs is designed to transform your bathroom into a luxurious oasis, combining timeless beauty with modern functionality.
Why choose the Marble Collection.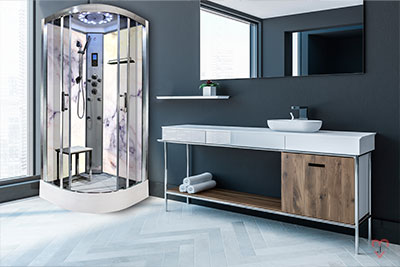 Marble is a natural stone that has been cherished for centuries for its exquisite beauty and durability. It brings a touch of opulence to any space, making it a perfect choice for your shower. Here are some reasons why marble is the preferred choice for many:
Timeless Elegance: Marble exudes a timeless and classic appeal that never goes out of style. It adds a sense of luxury to your bathroom that will stand the test of time.
Durability: The Marble finish is a durable design that can withstand the rigors of daily use in a shower. When properly cared for, it can last a lifetime.
Variety: Marble comes in a wide range of colours and patterns, allowing you to choose the perfect option to match your bathroom decor and personal style.
The Perfect Shape for you.
All three of the Marble Collection finishes; White, Grey and Black, are available in the shapes: Quadrant, Offset Left and Right-handed, Rectangle and Twin.
Steam and Shower Cabins Options.
With Insignia's Marble Shower Collection, we understand that everyone has different preferences when it comes to their shower experience. That's why we offer both steam and non-steam function options for our marble showers.
Steam Showers: Immerse yourself in the ultimate relaxation with our steam shower options. Experience the soothing benefits of steam therapy in the comfort of your own bathroom.
Shower Cabins: For those who prefer a traditional shower experience, our non-steam shower cabins offer the same exquisite marble beauty without the steam function.
         

From Ancient Rome to Modern Homes.

Ready to transform your bathroom with the timeless beauty of marble? Our team of experts is here to assist you every step of the way.

Contact us today to discuss your project, request samples, or schedule a consultation. Welcome to the Marble Shower Collection, where luxury meets functionality, and your dream bathroom becomes a reality.