The
INS0509 rectangular cabin
has a lot of history behind it!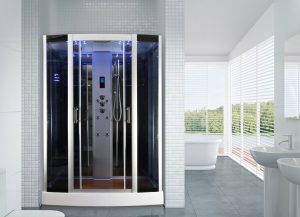 It is one of the most popular showers we sell, as it gives you extra space to shower, steam or have a hydro-massage. (Dimensions – 1500 x 900 x 2170mm) Not only that but the rectangular unit was one of the first manufactured as there was a high demand in the higher price bracket.
Where it all started - Meeting Frank Bruno MBE
We are delighted to tell you if you don't already know that the famous Frank Bruno MBE is our brand ambassador and who actually picked this shower to have at home. We also have a signed version of this shower in our showroom – so why not come and have a look. However, this isn't for sale I'm afraid. We first started working with Frank Bruno MBE in 2008 just a year after we started, it became apparent that not only were we helping him, he could help us and our brand! Still to this day, many years on customers are still able to win signed gloves and Insignia merchandise. For example the signed boxing glove giveaway.
There are more added benefits to this model, including the entertainment options which are endless.
These include the option to listen to the radio or maybe you want to personalise your showering experience by relaxing to your own music which can be Bluetooth connected from a smartphone/device. With all of this, you might just not move from your shower for the next week or so…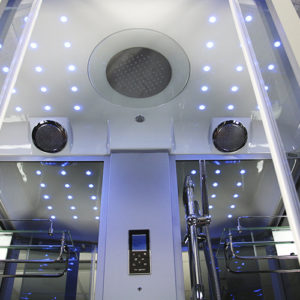 What falls hand in hand with entertainment? Our
Chromotherapy lighting
giving you the option to pick the coloured lighting to suit your mood. Chromotherapy is there to help you whatever mood you're in, whether it is stressed or happy on a Monday morning – Who is happy on a Monday? The Insignia team is! The
INS0509
comes with the monsoon shower head which is located in the middle of the roof, not only this but it is supplied with a hand shower on a riser rail. Many of our customers do purchase the digital hand shower instead of this hand shower to add something different to our shower cabins. Our digital hand showers display the temperature of the water in the shower head itself without being battery operated… How you might be thinking? It simply just uses the pressure of the water to generate power to the LED's. Also, another feature with this is outer ring glowing 3 different colours dependent on the temperature.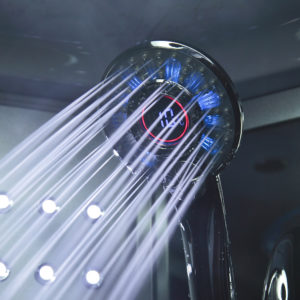 If this doesn't sell the unit to you, then I'm not sure what will!